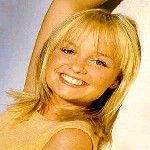 Full Name: Emma Lee Bunton
Nickname: Baby Spice
DOB: January 21, 1976
Birthplace: Barnet, England

Born Emma Lee Bunton on January 21, 1976, Baby Spice was destined to have an exciting future. At the age of three she won a beauty contest and was soon working as a child model. She modeled children's clothing and appeared in TV commercials. She loved to dance, taking ballet and tap classes. When she was ten, Emma was admitted to the Sylvia Young stage school in London.
Emma's showbiz career starts early when she becomes a child model. Attends St Theresa's School, London, then the Sylvia Young Stage School, which she is forved to leave at 14 for financial reasons, only to return three weeks later on a scholarship. After school, she studies drama at Barnet College for two years, then joins the London audition circuit in search of work. She is given a few very small TV and advertising roles.
Family:
Emma's farther Trevor separated from mum Pauline when she was eleven. "Everyone says, 'It was the worst time of my life.', but it wasn't really." claims Emma. Her father was a milkman and Emma would sometimes go on rounds with him to help out. Last year she bought her mum, who she calls her 'hero,' a nice house with a garden, because she had always wanted one. Paul James, or PJ, is her younger brother. Mum Pauline runs a Gojukai Karate club and has trained Emma to a 'very high standard'. Emma also has a half brother called Robert.
Jobs before she was a Spice Girl:
Dancer and actress, once auditioning for the part of Bianca, who is now a popular character in top soap EastEnders and later had a small role in the show. She has been in a number of adverts including ones for tooth paste and the Halifax building society were she was a bridesmaid on a giant wedding cake made up of people. Emma started modeling at the age of 3 and was a child model for Mothercare.