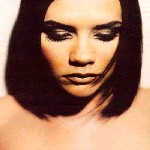 Full Name: Victoria Adams Beckham
Nickname: Posh Spice
DOB: April 17, 1974
Birthplace: Hertfordshire, England

Born Victoria Adams on April 17, 1974. Victoria endured lonely teenage years growing up in London. She wasn't liked in school. She had been bullied and insulted her classmates. Dancing was an escape from her loneliness. At eight she had been enrolled at the Jason Theatre School. She studied there until she was seventeen. She was then accepted to study at the Laine Arts Theatre College in Epsom, Surrey. She completed the three year course and set out to find fame and fortune.
More Info:
Victoria always looks chic and in style. Her trademarks are short Gucci dresses and high heels. But there is certainly more to this girl than fashion. You may not see her smile as often as the other girls, but she's not as serious as she looks! She's actually has quite a good sense of humor.
Victoria is married to British pro-soccer star David Beckham, one of the most gorgeous men in the world. She says she is "really, really in love" and gets a strange feeling whenever she talks about him! She gave birth to Brooklyn Joseph Beckham on March 4 1999. They named him Brooklyn because he was conceived in New York. The couple married on July 4, 1999 in Ireland.