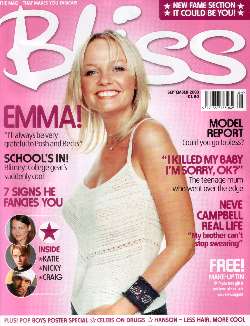 There's a crisis in the Spice camp and all hell has broken loose. But what's wrong? Has Victoria walked out on David' Has someone stolen the lyrics to the girls' new album? No, it's simply that Emma has forgotten to wear a bra to the photoshoot. No problem, you might think. Until you realise that we've chosen her a heap of summery, white tops for our pictures, and without, er, adequate support, they'll end up being more suited to a mag like FHM than Bliss. "Sarah!" a laughing Emma squeals at her PA from behind the curtain of her dressing room. "Are you wearing a white bra today? Can I borrow it?" Everyone assembled in the north London studio erupts into laughter which is swiftly stifled by a sharp 'No!' from the PA. Help! Twenty minutes later though, it's smiles all round as the 5ft 2 star works it for the camera, having saved the day by volunteering her own yellow t-shirt which is thankfully less see-through. "It's from Warehouse," she says cheerfully. Nice to see that someone worth more than £20 million still does her shopping in the high street.
Weight worries
We were a bit apprehensive about meeting Emma. What if she wasn't as sweet-natured in real life as she always appears? It would be such a let down. Admittedly, she does look different to how you'd expect. Older, maybe. Prettier. And certainly tinier. But from the second the 24-year-old Spice Girl walks into the studio, it's obvious we've got nothing to worry about. "Hi, I'm Emma" she says, taking care to introduce herself to everyone - like we wouldn't recognise her! As Emma's hairdresser puts her (naturally) blonde hair in curlers, the conversation gets onto newspaper stories about her weight - including one from last September's Sun, reporting that she'd given up junk food to shed a stone. "That's such rubbish!" she exclaims over the roar of the dryer, her near-permanent grin dropping for just a second. "Because, to me, it doesn't matter what size you are. If I go for a run or eat a bit better, it's because of how it makes me feel inside, not because of the way I look. Most girls don't really worry what they look like, but the pressure comes from everyone else, so they feel they have to worry about it. It's an awful thing to go through."
Most of the other Spices would agree. ln her autobiography, Geri said she really stressed about her weight when the band found fame. Then there were all those pictures of Mel C en the newspapers - after she released her debut album - with lots of nasty captions about her piling on the pounds. And what about all the speculation over Victoria's weight loss? Emma remembers the first time her own weight hit the headlines. "I was on holiday with my mum, and it hurt a lot," she recalls. "I remember, I was in bed for three days, and I just cried and cried. I thought: 'This is the first time that my weight is in the paper', and my friends and everybody are going to see that."
Emma, who once phoned a girl lying close to death with anorexia, and begged her to eat, continues: "Most girls don't like to be seen in a bikini because they're getting it out of their bum, or they're fixing themselves, so it was really, really hard. It's just so frustrating."
Damage Deal
For someone who was once described by the Daily Mail as "an ideal Enid Blyton heroine", this story is pretty revealing. 'Cause where the other girls have spawned millions of newspaper headlines from their comments and actions, Emma has always managed to be Uncontroversial Spice, resolutely staying out of the limelight. "Sometimes I do try to say things that are controversial," she smiles, before laughing, "but I'm never as controversial as my friends." Victoria and the Mels are certainly a hard act to follow but the Daily Mail's label doesn't bother Emma anyway. "l don't mind that at all. I'm quite a homegrown girl," she says pointing out that she only recently moved out of her mum's three-bedroom home and into her own flat in London's trendy Hampstead. "Money is not important to me at all but I like my home comforts. So I suppose that makes me an Enid Blyton kinda character," she smiles. But didn't her love of these home comforts cause some serious trouble in the past?
"Like what?" she asks, genuinely confused. Er, well, love troubles. The Sun said you split up with your boyfriend, Jade from Damage, in May last year because you liked your home comforts and he didn't want to settle down.
"Oh right!" she giggles, "Well, you'd have to ask Jade about that." She pauses, then goes on: "But we're back together now, anyway. So it can't have been that bad." I nearly choke to death at this point. Emma has never actually admitted publicly that she and 19-year-old Jade are an item. Sure, we all knew, but it's never come from her own lips before. Why now?
"Alright, you caught me out," she says, blushing - or maybe it's just the heat of the hairdryer. "There wasn't a point when I decided, but I think it's just a bit more obvious now. We go out to dinner and it's harder to always walk separately and things like that." Still, it's pretty remarkable that they haven't received the attention of, say, Mel G and her estranged husband, Jimmy - or, of course, Posh and Becks who seem to pop up in the tabloids on a daily basis. How's she kept things so low key?
"Have I'' she squeals, all sugar-sweet innocence. "You know, I have! But I don't know how!"
But they must worry that things will change and they'll become the next media couple?
"Well, I think it's really hard," she says, struggling, "But I don't see us as a media couple. Anyway, I think I'm quite lucky, because obviously with David and Victoria..."
What? (Getting blood from a stone is easier than this.) They take a bit of the pressure off?
"Yeah," says Emma, sniggering like Barbara Windsor in a Carry On film. "Which is aww-ful!" Another naughty laugh. "But, yeah!"
Girl Thing
Emma's about to enter yet another new chapter in her life. Not content with being on the verge of releasing a new Spice single (in October), their third album (in November), and working on her own solo album, she's spending August co-presenting SM:tv Live and cd:uk with Cat Deeley. Emma naturally says she's already a big fan of the shows. "I think Ant and Dec are hi-Ia-ri-ous!" she enthuses. "That's why I'm quite nervous, because they're so funny and I'm gonna not be funny." But she's not worried about anything else in her new job - and says she'll be happy to introduce Girl Thing, even if they have clearly ripped off the Spice Girls.
"I know, but you can't really blame them, it's more about the people who are behind them," she says, obviously not forgetting they're put together by manager Chris Herbert, who also formed and managed the Spice Girls, until the fivesome dumped him early in their careers.
"It's a shame, because I'm sure they want to be their own girl thing. But I think the people behind them are sort of, oh, it's the next Spice Girls. I'm sure they'd love to have their own identity but they've got all these people..."
One star Emma says she'd love to interview is Lenny Kravitz.
"I'm a big fan of his, he's a lovely man. Not long ago, I was in New York and I went out with some friends to a club. About five minutes later, in walks Lenny. Luckily, he remembered me, 'cause we'd met before. It was great, really nice."
Tread Gingerly
Lots of things in Emma's world are "nice". Or "lovely". It's Uncontroversial Spice's cover for saying anything too, well, controversial. So, she says she'll have a "nice" time with Cat Deeley and it'll be "nice" if she enjoys herself on SMTV. The show, in general, is "lovely", as are the fans who - six years on - still call Emma by her nickname, "Baby". Even the time when Geri bought each bandmate a ring - which Emma says they all still wear, even though the engraving has rubbed off - was "lovely". ('It's never been in my mind to take it off," she says, waggling her right hand at me, "because I love it and it's a part of my life.") What wasn't so lovely, of course, was the day in May 1998 that the Ginger one walked out on the Spice Girls, right in the middle of a world tour. "lt was hard at the time," Emma remembers.
"We had so much to do. We had to rearrange the show, and it was just a bit of a weird time to do it to us. And sometimes I think it could have been done a bit better." She checks herself. "But at the end of the day it was something she needed to do.
Emma says she hasn't seen Geri, or spoken to her recently - maybe even since it all happened.
"I think because she's so busy with her solo career, and we've been so busy. But we've been through so much and all friends have times when they don't see each other for a bit or they don't talk. It doesn't mean you don't care about each other dearly, and some day, obviously, we're going to speak again."
I point out that she said, a year ago, that they'd speak again. How long will it take for the rift to heal?
"I don't know, it's not healing. I just think it takes time. I can't say to you that in a month's time we're going to be... who knows''
She does her very best to deflect the conversation and it's clear that when I touch a nerve, she takes refuge under her Uncontroversial Spice hat again. Her hair is ready, her make-up's done, and we're about to start the shoot. But there's just time for one last question. "You're so nice about everybody," I venture. "But surely there must be something that makes you angry" The tabloids perhaps? The way they treat the other Spices...?
She pauses. "It hurts me, because they're my friends, and it's very annoying, They really are the sweetest, loveliest girls, and sometimes you want to say..." here Emma mimes the words "piss off" so they're not picked up on my tape, "but you just can't."
I can't help smiling. After meeting her, I can confirm that Emma genuinely is sweet Spice. But she also says "pisss off." Not too controversial perhaps. But at least it's a start...
Emma On:
Avoiding Milky Bars when she was the Milky Bar Kid's girlfriend in TV ads... "I never liked them. I didn't tell them that, though, as you have to act like you love them!"
Spice babies... "I've changed loads of smelly, poohey nappies!"
The new Spice album... "I think people will really notice the vocals, as we've worked really hard on them."
Mel C's comment that the Spice Girls is only a hobby... "People took that the wrong way. A hobby is something you really, really enjoy. That's how she meant it - it was flattering."
When The Spice Girls will split up... "How long's a piece of string' Anyway, The Spice Girls will never split up because we're friends."
Being bullied when she left stage school for a comprehensive... "I remember saying, 'Mum, please don't make me go to school'. I was kind of on my own, left out a lot. I didn't make friends."